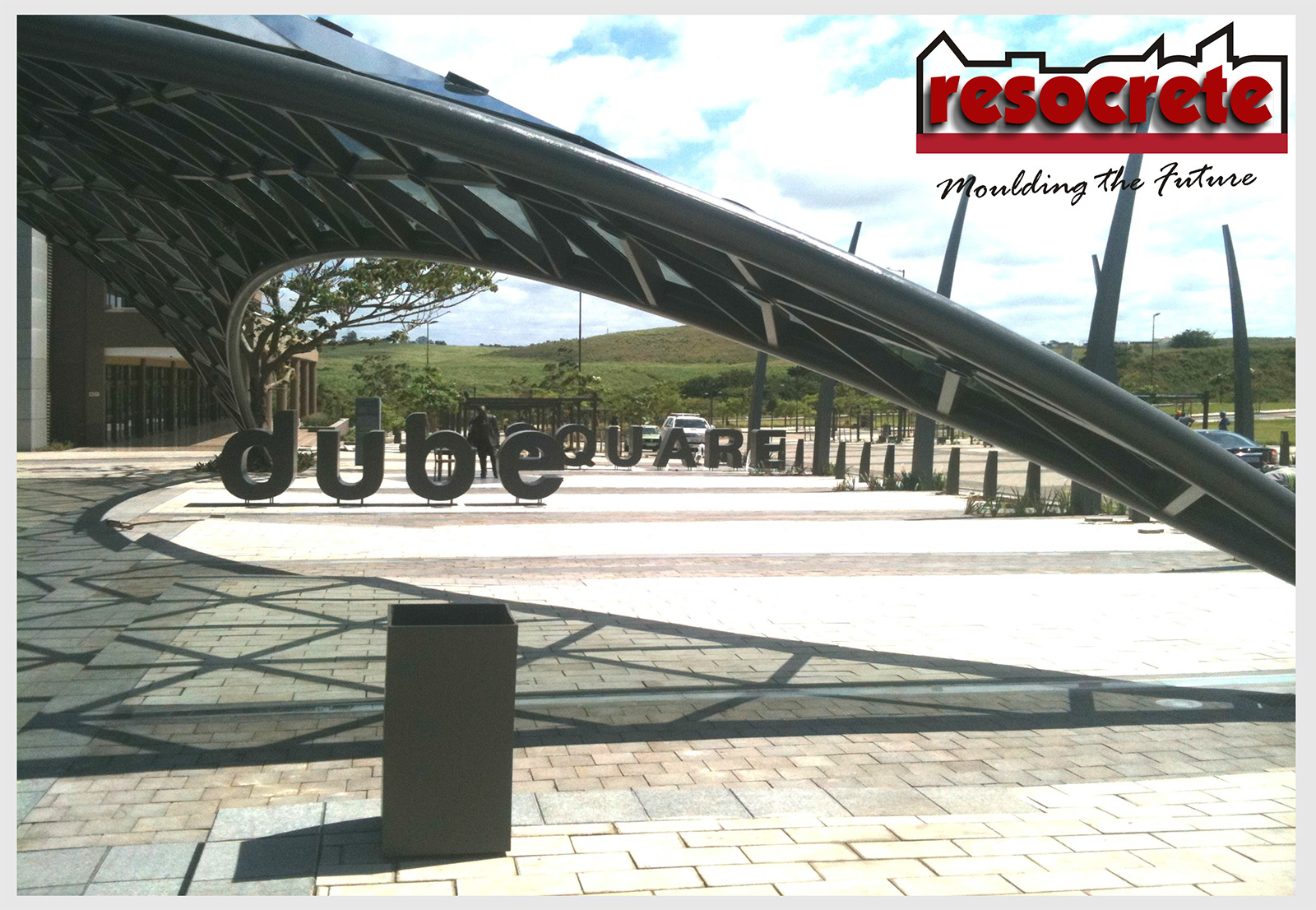 resocrete is a dynamic group of companies situated in Pinetown, which had its inception in 2001 already making an impressive debut into the commercial and residential construction markets.
resocrete products are fabricated from a range of specialized composites made from chemically bonded, mineral filled, polymeric materials which once moulded, produce a product which is both durable and versatile, and can be cast into almost endless shapes and forms to meet the most diverse of design needs. Each composite is specifically formulated to meet the unique and exacting standards and requirements of that particular product, be it structural strength, abrasive resistance, aesthetic value or any one of the many other differing factors which makes that resocrete product a market leader in its field.
Some Commercial contracts where resocrete specialized products have been featured are:
U'Shaka Marine Park

Johannesburg New Town Center

Gateway Theatre Of Shopping

Umhlanga Ridge New Town Centre

Melrose Arch in Gauteng

Liberty Midlands Mall in Pietermaritzburg

Moses Mabida Stadium

King Shaka Airport

Nedbank BOE building Umhlanga Ridgeside

Brunfin House

Wellness Center Ballito

Sabuti – Zimbithi

Ballito Junction

Elis Brown Bridge – Blue lagoon

Sun-coast Hotel

Coastlands Gatemax Hotel Umhlanga Ridge

Addington Childrens Hospital

Ethekwini Electricity

Dube Trade Port

FWJK Touchstone House Cape Town

SMVA Head Office Swaziland

Medstone Medical Centre Gateway

Fish Tanks & gratings

Tactile Ground Surface Indicators (TGSI"s)

Street Furniture Bollards, bins, road markers

Bollards, feature mouldings

Basins and vanity slabs

Street Furniture Bollards, Bins, Sign posts

Cultured Stone Cladding Panels

Cultured Stone Cladding Panels

Columns, Beams & balustrades

Columns, Beams & Mouldings

Commercial Bridge Handrails

Building Cladding panels & columns

Architectural Mouldings, Pavilion, Balustrades

Sub-station trench covers

Street furniture, Dube Sculpting & play ground

Cladding & mouldings

Modular Window Cill & Surrounds

Modular Window Cill & Surrounds
In the residential market, resocrete has been fortunate enough to be involved in the following developments:
Mt Edgecombe Country Club Estate

Le Domaine retirement village

Zimbali Forest and Golf Estate

Somerset Valley Retirement Village

Camelot

Prince's Grant

Lanarco

Wozani Ridge

Caribbean Estate – Port Edward

Kirklington Estate

Kindlewood Estate

Wakenshaw Estate

Pentyre Point

Horizon View

Ridgeton Towers

Warner Doons – Amanzimtoti

Langford Country Estate

Manhattan Mews
The cladding of the Nedbank BOE Head Office Complex in Ridgeside, Umhlanga New Town Centre, using modubond cladding panels, in its cost saving, low maintenance, and ease of installation capabilities, is proving a winning formula and a number of subsequent contracts have been awarded including a hospital on the South coast of KwaZulu Natal, and moulded profiles to Touchstone House, FWJK's new building in the Cape Town CBD.
Composition
Made from primarily waste products, recycled materials, by-product materials and natural stone, and with a zero moisture absorbency, modubond attains 98% green-build properties whilst retaining superior compressive strength, flexural strength, acoustic damping properties, as well as outstanding thermal blanketing.
Product Development
resocrete prides itself in offering extensive and efficient production capabilities with a focus on fast-track delivery from product conceptualization, to 3D modeling and CAD design, to fabrication and ultimately to delivery, without compromising on quality.
Aside from ongoing internal research and development, resocrete offers the service of highly qualified and skilled staff who will assist with all design and drafting processes of specialized products. This assures the customer of a high quality product with all the benefits that their cutting edge technology offers.
All resocrete products are fabricated using specialized formulations each one unique in its own particular structural strength, aesthetic finish and usability. These formulations (Res Mod 1 to 48) have strengths varying from a compressive strength of 130 MPa, a flexural strength of 43 MPa, and a weight advantage surpassing that of structural concrete. They are also cost competitive, notwithstanding the various maintenance free finishes and detailing that can be moulded into or on the product.
Product Lines
decocrete


Various styles of Street furniture, Manhole covers, Drainage grids, Bollards, Bins, Street light poles, Ordinance signs, Signage, TGSI's

balucrete


Domestic Balustrading
Commercial Balustrading
National Road Handrails
Stanchion Post And Rail

granocrete


Cultured granite, marble & stone, Window Cills, Vanities & basins, Table tops – Hospitality trade, Bar tops, domestic basins

permacrete


Permaform columns (permanent formwork)
Permastruct columns (permanent structural)
Permapost columns (square structural)
PermaBase (Heavy Duty Column Bases)
PermaCap (Lightweight Column Capitols)

Resoloo


VIP Modular Toilet
Disabled Modular Toilet
Ablution Blocks, pit latrine liners

modumould


Decorative mouldings, swimming pool covings, modular stair treads, window cills, window surrounds

moducrete


modubond stone building cladding
LamPlas polymer composite cladding panels
StructaBond fibre reinforced polymer composites
LamPlas sub-station trench covers, waste bins,
Street Pole signage, structural angle sub-frames

Resohut


Modular Sentry guard hut, Modular Control Center, Promotional Kiosks, Spaza huts, Airtime & Vendor kiosks

terracrete


Acid / alkali proof floor tiles, Acid / lkali proof piping systems

custom products


Specialized Custom Manufacture of products ranging from Hare-Krishna temple domes, Hindu Ashrams, decorative panels for shopping malls, sculptures, art deco, trader stalls, mass-beams, complex mouldings, cathedral rose-windows
resocrete's domestic balustrade system and handrail range has become the market leader in its product line, from the smallest renovation to whole complexes, and has received wide interest both locally and abroad with substantive orders from Australia for its low maintenance, chemical resistant, and enduring attractive qualities.
resocrete resoloo & resohut
resocrete recently launched their new products, the resoloo VIP modular toilet, the resohut and the resocrete sentry guardhouse.
Exceeding all industry standards and requirements, this product is set to revolutionize the industry with product performance, ease of installation, hygiene, zero maintenance, robustness and strength and – most importantly – speed of manufacture.
Whilst resocrete is the manufacturer of the resoloo VIP modular toilet, Resoloo Marketing has been appointed as the business entity for all marketing of this and all other resocrete sanitation, resohut and the resocrete sentry guardhouse solution products.
Product Support
resocrete also provide nation-wide back up to this new product with a permanent product support team consisting of a project manager and 3 installers whose sole purpose is to assist contractors with on-site training, product education and quality control.
It is imperative that all installations meet resocrete's exacting standards of quality, and this teams prime objective is that the customer is happy with the final product.